Recently I sat down with musician Don Henley for an exclusive Mighty Blog interview. Mr. Henley is an avid reader of my blog, so I wanted to give him a chance to address recent allegations that he is a "fag" and/or "douche." Things started out well enough, but unfortunately, Mr. Henley's anger got the best of him...
Dyck:
Mr. Henley, thanks for being here today.
Don:
My pleasure. Please call me Don.
Dyck:
Don, you are undoubtedly the finest singer/songwriter of your generation. You started singing and playing drums in high school. You belonged to several small bands in Texas before co-founding The Eagles with Glenn Frey in '72. After the group disbanded in the early 80s, you went on to become a Grammy-winning solo artist...while the careers of your former bandmates fizzled away. Then in 1994, you reunited with The Eagles for the phenomenally successful Hell Freezes Over tour. Today, you continue to tour and write brilliant, inciteful music.
Don:
Thank you.
Dyck:
My first question is, are you a homosexual?
Don:
No. I am happily married with three beautiful children. In the 70s, I fucked Stevie Nicks on a regular basis. And in 1982, I was busted for having a wasted 16-year-old girl naked in my bed.
Dyck:
Well that's good enough for me. I believe a few of my readers have some questions for you.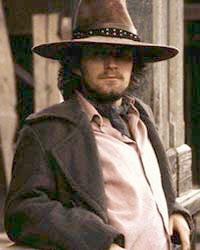 Karla
:
Hey Don, you're a washed-up fag!!!
Don:
Oooh, you can talk, you can talk, you can talk, you brave mother blogger!
Karla:
Hey, that's uncalled for...
Don:
Well that's what you get for interrupting the Desperado, don't you know? Throw her out! She's a
blogger
! She's a
blogger
!!!
Bostick
:
Don, you suck, cracker ass!

Don:
Look, another
blogger
! Thirty years ago, I'd have you upside down with my fucking drumsticks up your ass!!!
Bostick:
Hey that's not necessary!
Don:
Shut up! Shut up or I'll hang your blogger ass in a New York minute!
Andy
:
Uncalled for! This is uncalled for!
Don:
Ooooh! Ooooh! It shocks you! It shocks you, you filthy blogger! Well take your dirty laundry somewhere else!!
Dyck:
I think we better wrap up this interview. Don, I hate to do this, but I'll have to ban you from my blog.
Don:
That's OK. I have to go anyway. Joe Walsh and I are going to a Barbra Streisand concert tonight. This definitely won't be a "worthless evening," if you know what I'm saying! Later!!