34 fucking years.
That's how long The Price is Right has been on the air. Today marked the first show of the 35th season of America's most exciting hour of fabulous prizes and blah blah blah. Yeah, I watched the season premiere. I admit it. Actually, I tivo'd it...as I do every day. But I don't always get to watch it, and when I do, I never watch the whole thing. In fact, once I fast forward through the commercials, endless prize plugs, and boring Showcase Showdowns, the show is only about four minutes long.
There's something kind of charming about a show that hasn't updated its set in 34 years. Do you know how many hands have touched that filthy wheel? I wouldn't spin that thing wearing a pair of Isotoner gloves. Jesus Christ, even homeless guys steal a new shopping cart every now and then! And the light bulbs...my God, the light bulbs!! They're everwhere, and in every shape, size, and color!!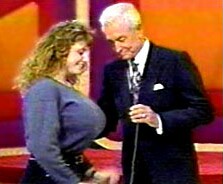 And then there's the man himself, Bob Barker. The man refuses to die or retire, and no one knows why. Surely he must be sick and tired of pimping refrigerators and getting groped by fat old chicks. I guess it's better than the alternative: Rotting away in the Old Gameshow Hosts' Home with Wink Martindale and Bob Eubanks. Hell, even the crew is old. I swear one of the cameramen had a crap bag hanging from his camera...although I guess that could've been a parting gift. Who knows.
So here's to old Bob and The Price is Right, for doing whatever the fuck it is they do for 34 years and counting.